Your internet presence is important whether you're starting a new company or hoping to expand an established one. It serves as both your gateway to the outside world and as the main means by which most potential new clients will discover and interact with you. For start-ups, small businesses, and medium-sized enterprises, WordPress has a wide selection of business wordpress themes. This list of WordPress business themes was created with such in mind.
Business owners may easily display their goods and services with the help of these expert corporate themes' exquisite styles and functionalities.
In addition to the design, elements like performance optimization and customization choices enable businesses to adapt their website to suit their own requirements and tastes. Professional support also guarantees that businesses may get the assistance they require to maintain their website operating efficiently.
A website that is appealing and simple to use can significantly alter how a customer views a company. A website that appears dated, has broken links, or has poor navigation makes a bad first impression.
SEE ALSO: The 5 Best WordPress Themes For Food Bloggers
Every company, regardless of size, deserves a great website, which is why we have put together this list of the top WordPress themes for business. You don't need to have a unique website, yet you do need to present yourself professionally. That is offered by these subjects.
Now, let's start with our handpicked list of best business WordPress themes.
Popular WordPress Themes for Business Websites
Astra has a large selection of themes for corporate websites. Both a variety of industry-specific templates spanning various business types and versatile templates that might be adjusted for any form of enterprise are included in that collection.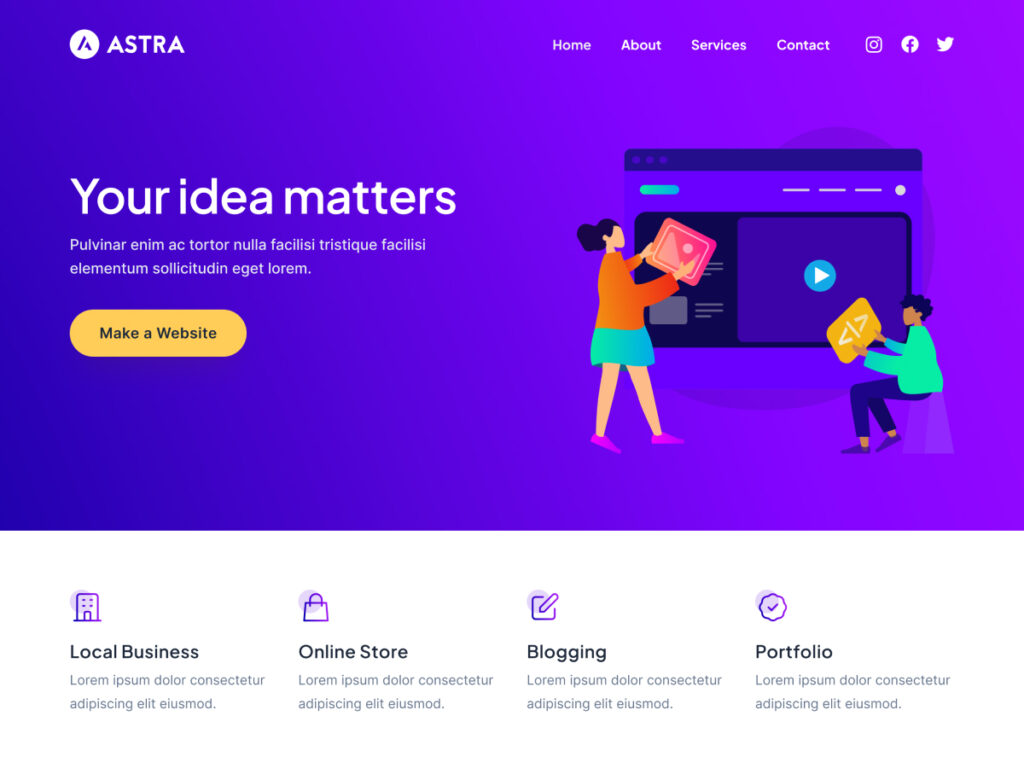 Each Astra theme has a polished appearance, excellent functionality, and is incredibly simple to use. To assist in the creation of your website, Astra offers drag and drop web page builders. It is quick and easy to modify a demo website or start from scratch when using Elementor, Beaver Builder, or Brizy Builder.
The Astra themes offer a variety of well-liked features, load quickly, and provide the experience your consumers demand. All of this may be done without your knowledge of coding or how websites operate.
Over a million consumers have tried Astra for a variety of reasons. They are only a few.
Any Astra template can be easily customized to meet any type of business, but we also offer some that are tailored to particular market segments. Astra offers a free version, and premium plans begin at $47 annually.
SEE ALSO: Best Ways to Automate your WordPress Website and Workflow
Advantages
• It already has demo landing pages because it comes with Starter Templates, which will make it easy for you to build a website quickly.
• Portfolio pages are already built into templates. Just use a page builder to make the necessary adjustments.
• Astra loads in less than a half-second and is extremely quick.
• Because it works with WooCommerce, you can build any kind of online store.
• The majority of Starter Templates also include endorsements to boost credibility.
Cons
For beginners, having too many sophisticated functions may be a little daunting.
In that it offers a variety of attractive predesigned demo websites for a variety of businesses and some multifunctional themes for anything else, Divi is similar to Astra. The Divi designs can all be easily changed, yet they are very identical to one another instead of being more distinctive.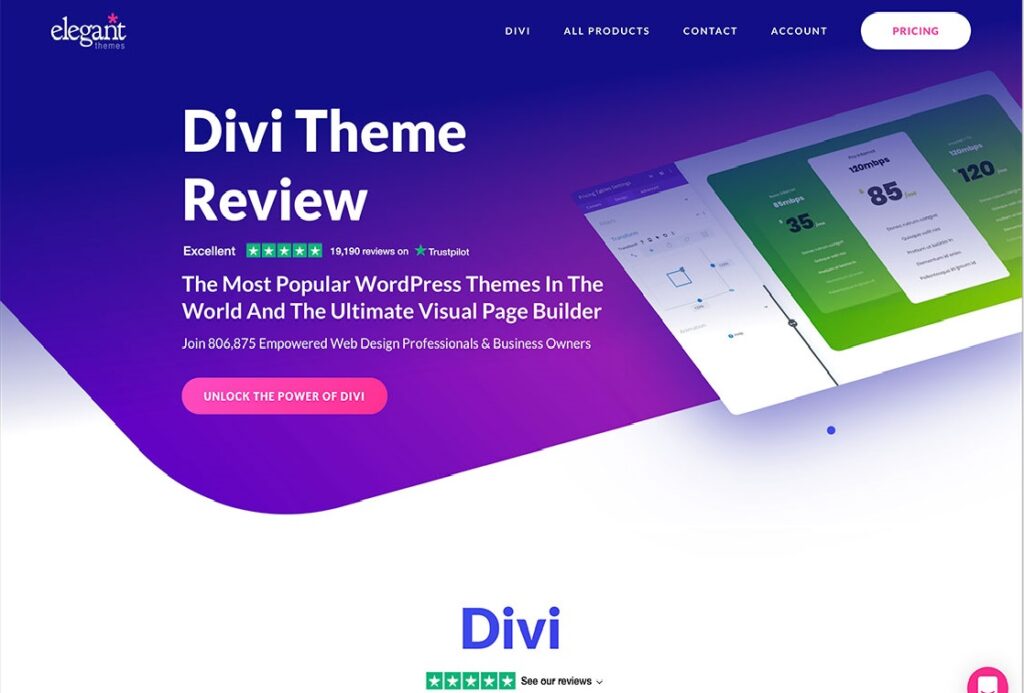 Drag and drop site builders are used in the design of Divi websites to make construction simple. They are relatively simple to set up and come with a variety of built-in plugins. Cost of Divi is $89 per year.
Advantages
include a specialized page builder for Divi that speeds up creating and premade business website designs.
• Lets you include crucial business website elements like slideshows, portfolio galleries, and testimonials.
• Gives you complete control over and customization of all website components, including backgrounds, photos, videos, shapes, and animations.
• It is quick and responsive, which makes it perfect for a commercial website.
Cons
• Like Astra, Divi contains a ton of features that at first may be confusing.
A simple, adaptable WordPress theme for businesses is called Mai Success by Studiopress. It may be tailored for numerous businesses and has a company look that neatly sets the setting. It's a WordPress theme that loads quickly and has a variety of advantages that can be useful for your project.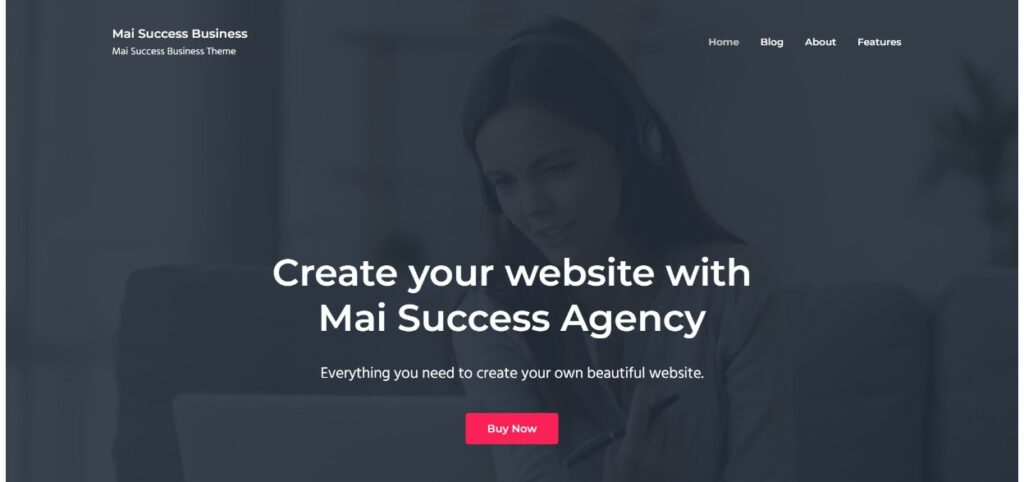 The pink color and bold, contrasted typeface goes fine with the primary image header. The remaining portions of page are contemporary, user-friendly, appealing, and contain all the material items a normal visitor could wish to see. If you are not bothered about the price, it's a good alternative. Cost of Mai Success is $99
Advantages
• Creating a basic company website is easy and clutter-free.
• Allows you to alter the design of your blog.
• A portfolio section on the home page displays goods and services.
• Genesis Framework-based Gutenberg's block-type theme that is flexible and configurable.
• It has a demo upload feature.
SEE ALSO: Useful Word Document Tips To Get Things Done Faster
Cons:
The design is overly simple and has few functionality.
The same as Business Pro, ThemeIsle's Hestia Pro is a a number of uses WordPress business template that can be tailored to fit a variety of sectors.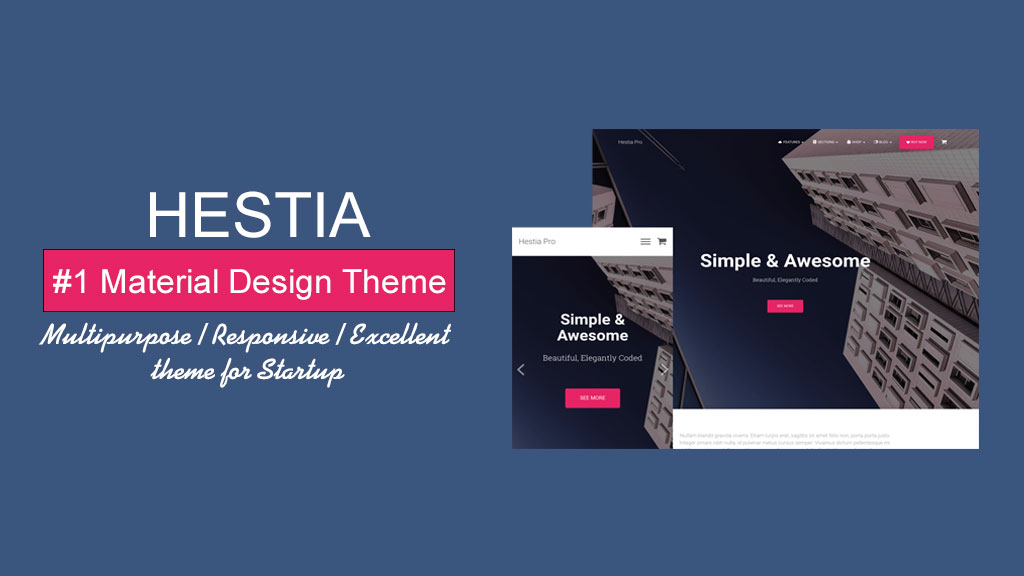 With a big image/picture header and attention-grabbing start typefaces, it has a flat, clean style. It provides a professional appearance that leaves nothing out, with a pink contrary color and, full of white space, and simple design flourishes along the page. It's a capable design that might be implemented by numerous businesses. The most expensive version of Hestia, Hestia Pro, starts at €69 annually.
Advantages
• A professional appearance and feel can be added to your company website with slick material design.
• The website customizer makes it simple to alter your website.
• Compatibility between page builders and WooCommerce.
• You can quickly establish a company website by having access to entire the starter sites. 
• It responds and moves quite quickly.
Cons
• The customers interface is somewhat challenging.
Create an excellent website for your business with responsive to mobile devices and speedy-optimized theme for WordPress, Rara Business Pro. It is appropriate for all types of businesses, including agencies and freelancers. The theme has a number of sections to help you expose your company to your audience, including team, Services, About, and then Portfolio.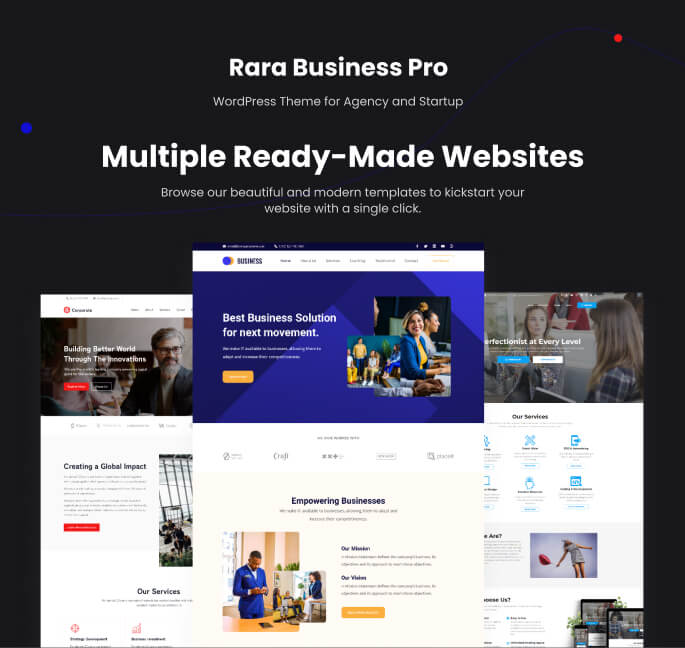 The ability to use any number of colors and among thousands of Google fonts gives you the freedom to completely customize your website. Additionally, an a single-click demonstration import is available to quickly import and launch your website. You may design a stunning yet extremely functional website using Rara Business Pro that will capture the interest of your visitors. Cost of Rara Business Pro is $59
SEE ALSO: 6 Tools To Manage All your Social Networks At One place
Advantages:
• It's free, which can help you save money on beginning fees;
• It's adaptable & SEO-friendly;
• It has a single click demonstration import function that makes it easy to quickly build a website for your company.
• You'll receive all the necessary sections for a company website, including a blog, a team area, a portfolio section, a service section, a section for video banners, and a section for testimonials.
Cons
• For experienced users, it could feel perhaps a bit simplistic.
A powerful versatile WordPress theme for businesses is Punte Pro. It makes a wonderful first impression by using simple design, contemporary font, borderless page elements, and loads of white space. With the addition of those splashes of color from the photographs, you've got a very powerful design.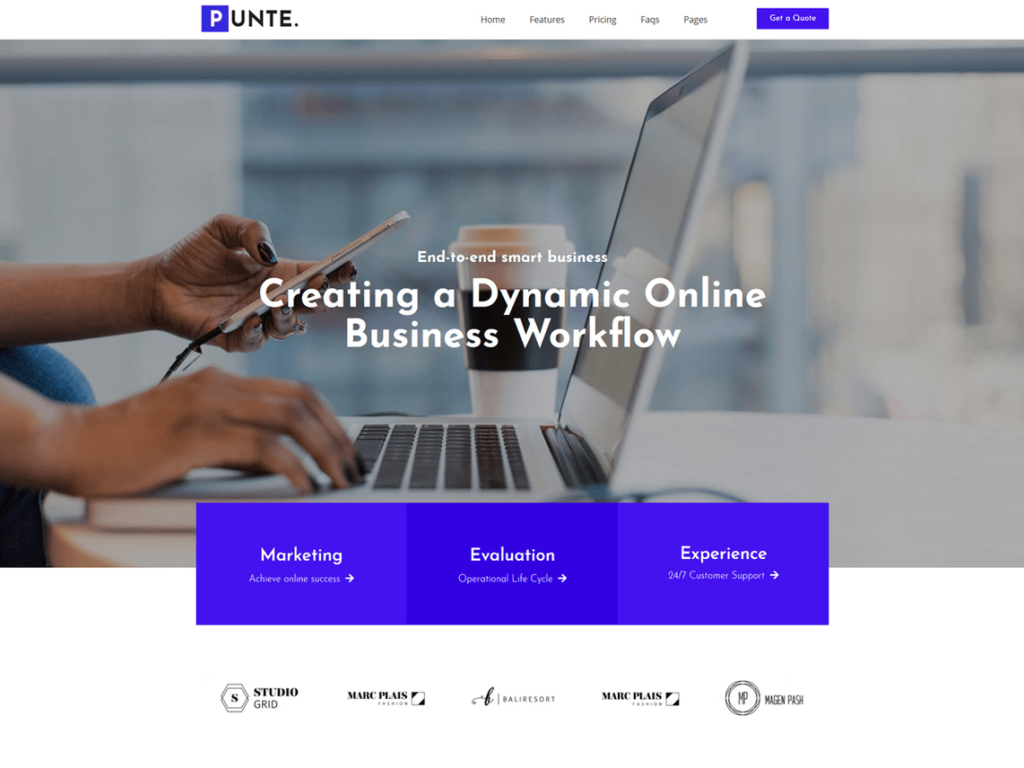 Punte Pro offers a number of sample websites that may be customized to meet the needs of most businesses. Each employs a consistent balance of color, page elements, and white space combined with various layouts to produce a number of websites that look professional with the least amount of bother. For $55, you may get a lifetime license to Punte Pro.
Features
• Includes 23 unique starter sites, such as corporate, agency, company, WooCommerce, magazine, and hotel.
• Elementor allows you to create an endless number of headers and footers.
• Contains 8 ready-made header layouts
There are countless sidebar alternatives.
• Offers sophisticated typography possibilities.
Cons
• Lacking some sophisticated features.
Neve is a choice if you're seeking for simple, uncomplicated WordPress business theme. There are numerous demo websites available, each of which may be altered to fit your own brand or design and span a variety of industries.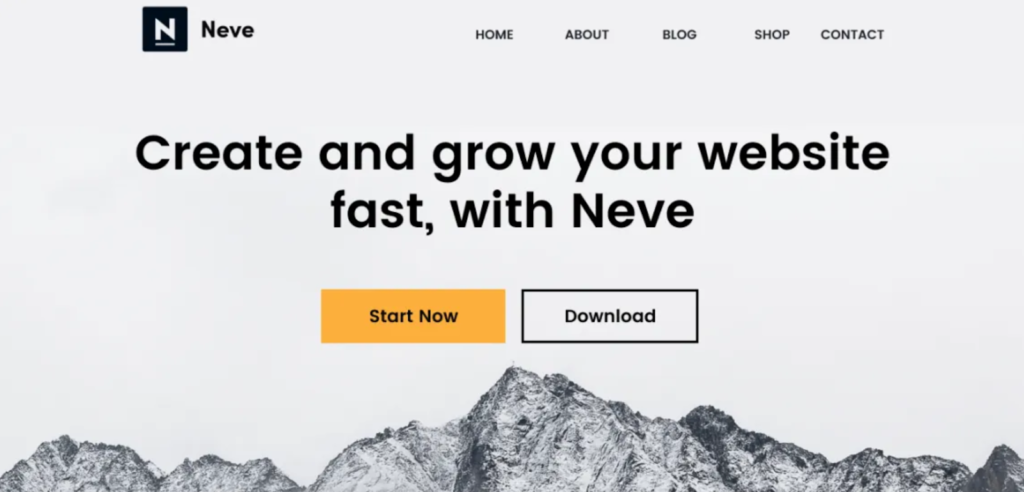 Neve employs page builders like as Elementor, Brizy, Beavers Builder, The Divi Builder, SiteOrigin, or visual Composer to aid in the design. Every functions well to enable you to easily build pages, include components, take away functionality, and basically build the site you desire.
Neve demonstration all have a similar appearance but offer a user-friendly website for start-up companies. Neve starts at €69 annually.
Advantages
• It offers a trial version for free that can assist you in reducing the cost of Your first outlay.
• Using the beginner Sites, you may quickly construct a website for your business.
• It loads incredibly quickly and is bloat-free.
• You have simple control over how the website is set up.
• Supports the most well-liked page builders, including Divi Builder, Beaver Builder, The visual Composer, Brizy and Elementor.
Cons
• The user interface is not the most simple.
A strong initial impression is created through structure. The header uses a photographic background with a font overlay and a tablet image underneath. The remainder of the page employs contemporary font to convey your message and alternates between a white and a dark picture background to provide contrast.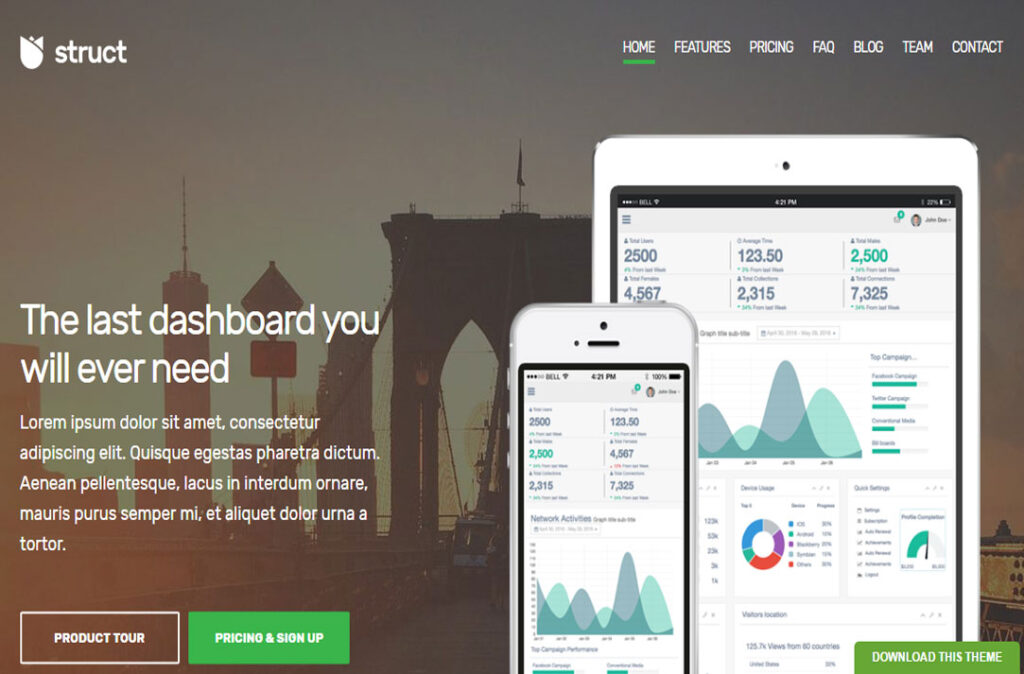 The remaining components in this business WordPress theme come with the typical elements we enjoy seeing, such as graphics, animations, layout, effects and color options, forms and pricing tables. If Struct fits your brand, it's a solid showing overall and its better checking out. Structure fees start at $49 a year.
Advantages
• Display examples of your past work, whitepapers, services and product use cases.
• A team member's page on your company website should offer insights into it.
• Provides choices for controlling typeface and color.
• Connections to page builders such as Gutenberg and Elementor.
• Compatibility with well-known WordPress plugins such as Advanced Custom Fields, Popups by OptinMonster, HubSpot, WooCommerce, and Popups from Optin Monster.
Cons
• Adding a some more unrestricted templates will be helpful.
With numerous demo websites tailored to various industries, Ultra Theme is a versatile WordPress template for businesses. Each delivers a professional-looking first impression thanks to clean design and excellent image, color, and font choices. The exact features we want for WordPress business themes.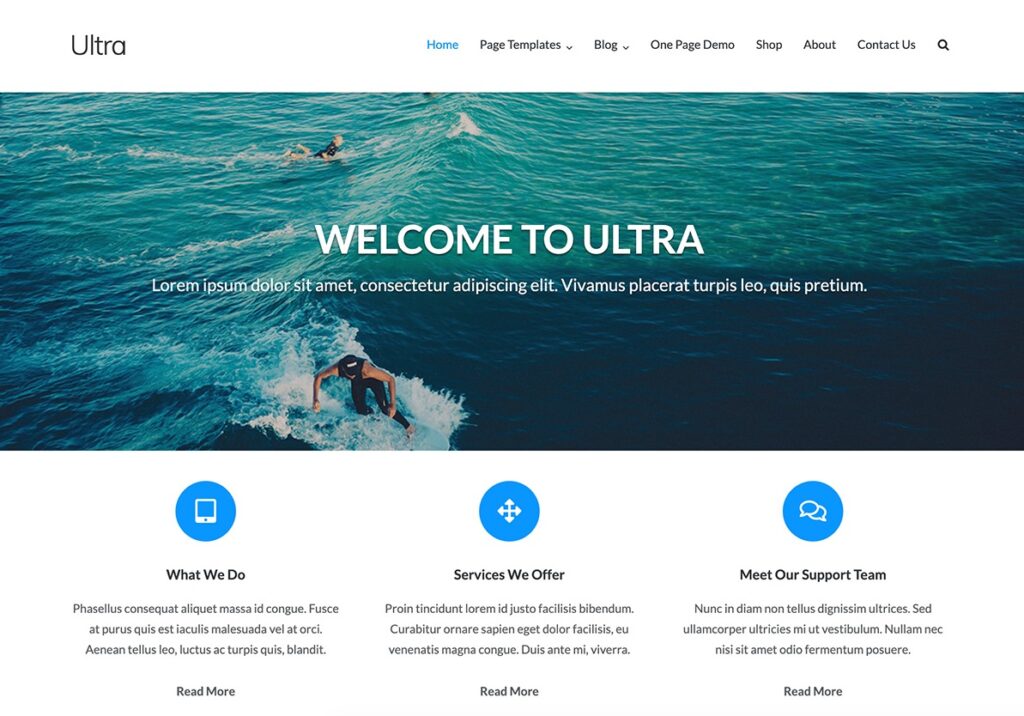 With Ultra Theme designs, you can create pages using as few or many components as you like using a drag and drop builder for pages and a variety of layout options. Each might reflect your company in the polished way that your clients demand. Costs for Ultra Theme start at $59 annually.
Advantages
• Offers support for WooCommerce so that any kind of eCommerce website can be built. Create your company website in a matter of minutes using the demo content and portfolio sections. • Enables coding-free banner insertion anywhere in the template. • Has dynamic display and content circumstances. • Supports website design that uses drag and drop.
Cons 
• It may be a little difficult for new users to understand.
A great WordPress theme for businesses is Authority Pro. It offers a distinct manner for presenting a page and is clear and well-balanced. With a primary picture and excellent borderless content pieces, there's lots of white space here. The design benefits from this lack of a clear structure because it lets the viewer browse downward wherever they'd like to understand the content.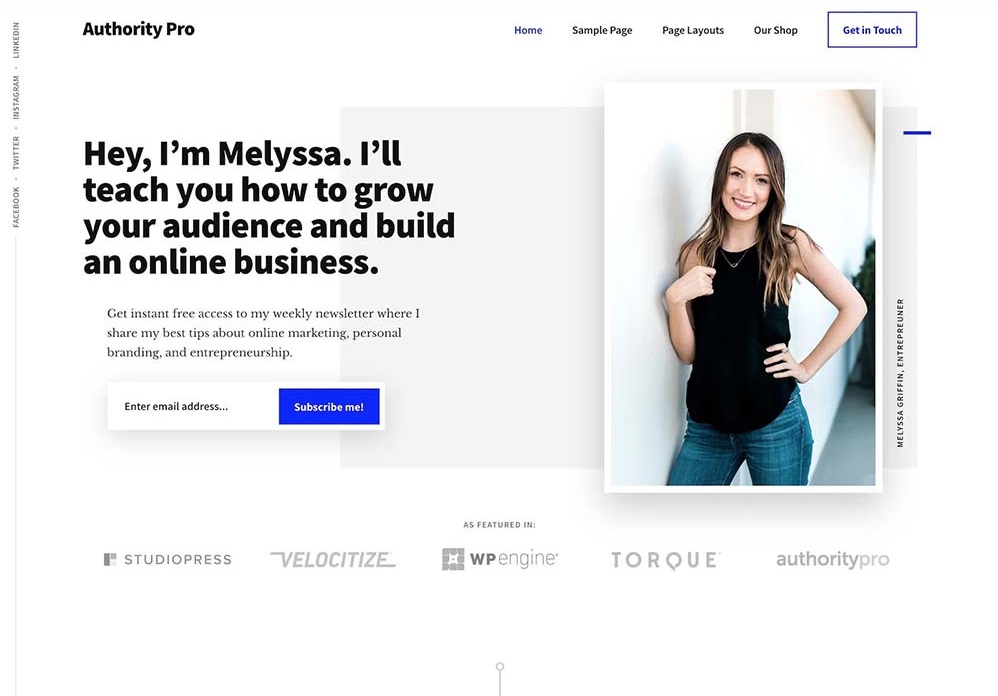 Strong typography, a dramatic blue contrast color, and a wonderful shadow effect give the page depth in this minimalist design. This might create a really compelling company website with some carefully chosen graphics and potent wording. Genesis Pro, which costs $360, includes Authority Pro.
Advantages
Because it's free and WooCommerce ready, you can build an online shop with all the essential bells and whistles while also lowering your initial investment costs.
Your company website's homepage can be loaded with demo contents in the style of Gutenberg blocks.
It was created using the Genesis framework, and a live preview feature makes it simple to change the colors, typography, and other options.
Cons
• Less templates available for page builders besides Gutenberg.