Just click a picture printed data table and import its information in excel sheet just like that. As Excel Mobile apps are going to have a wonderful and beneficial feature for both iOS and Android users. Microsoft has newly launched "Insert Data from Picture". This feature lets Excel users to transform printed tables into excel table which you can edit easily.
Microsoft is really doing hard work to develop its Office apps by aiming on Artificial intelligence (AI). So, from now onwards Working on spreadsheets is not going to be an uninteresting task anymore.
The new feature "Insert data from the picture" utilizes AI (artificial intelligence) to examine and spot the data deprived of the neccesity of the end-user to physically enter the data.
SEE ALSO:https://sprunworld.com/wordpress/software/best-mind-mapping-brainstorming-software-tools/
By using this feature, you can just take a picture of a printed table and immediately convert that picture into Excel by utilizing a mobile phone camera (no need to enter one by one).
Following are some best way to swiftly convert data table in Excel which you can edit.
How to convert a picture of written data table into Excel
Do the following steps to convert data table in a paper by utilizing the Excel app.
First, Open excel sheet in mobile
Click on the 'Insert data from picture' tab at the base of the screen. If you do not find the tab shown below in the picture click on the "light bulb" tab to spot it, but it is probable that it is not still accessible for you.

Once you click on 'Insert data from picture' (shown in the picture above) red square will appear, now adjust the camera and focus on the table you want to capture and then click the capture tab.
Now it will start scanning the data. You can also Crop the picture as per your requirement by using image editing tools.
Then click on Done. You can set right the mistakes by editing Or else click on the Ignore tab to insert the data without any edition.
Now click on the Insert button.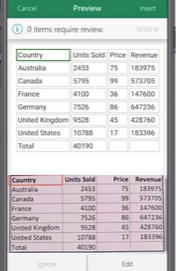 After completing the above-mentioned work, Excel will progression the statistics and implant it in the spreadsheet Now everything is done successfully, all you need to do is just make changes you need or enter new data.