Now free public wi-fi access points going up in many places around the world. They are becoming more useful when traveling and you no need to pay for international mobile data. Here you can find some tips to find wi-fi point on the go, whether you travelling to other city or travelling to foreign countries.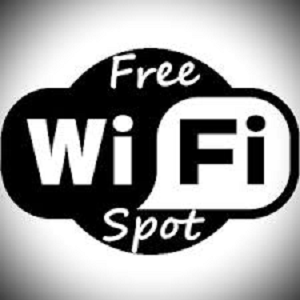 Now many restaurants, star bucks, other coffee shop, pizza corner and burger houses are offering free wi-fi services to paying customers. You have to ask staff for password to use the wi-fi network connection.
You can get free wi-fi in many shopping malls and you no need to buy anything to use wi-fi, just zit on bench pull your laptop or smart phnes. Airports, some railways stations also offering free wi-fi.
Finding free wifi:
Smart phones apps and multiple websites will help you to identify wi-fi in your area. All you need to do is, perform some advance research is you aim to hang out anywhere you can get some free downloads.
Locate Neighboring Wi-Fi Hotspots With an App:
If you want to find free wi-fi point, use apps available both for iOS and android(listed below). First install and run this app, it downloads database of free and paid hot spots around the world. You can use this app even when you are offline. This app uses your GPS location and pop ups nearby free wi-fi spots on a map.
List of smartphone apps or websites that provide free Wi-Fi:
Smart phone apps:
Websites:
Free WiFi Finder
Open WiFi Spots — (similarly available as a smartphone app)
Wi-Fi FreeSpot
Finding free wi-fi is one thing, but finding free and fast wi-fi is quite harder. Open Signal examines several public Wi-Fi speeds in the United States., aiming on hotel chains and restaurants. As a result, Starbucks' change to Google virtually doubled its Wi-Fi speed
Warning
Free Wi-Fi can come with a bite: Hackers can use unsafe Wi-Fi connections to access your data, dispense malware or else cause chaos.
Take precautions: Make sure that you are using VPN, it is a protected connection for any websites you visit. When you don't need wi-fi just turn off it.