When you are having an interesting / important conversation with someone, but you need to do other works simultaneously on your iPhone? Yes, you can. Do you know what are the things you can do when you are on call?
Following are the things you can do simultaneously while attending the call.
Connect Another Call:
Now technology is going very advance, so now you can attend another call as talking on the first call. You can change among the calls or you can combine them as well.
For an instance, if you want to approve a detail in a client call or include another friend to line the conversation.
SEE ALSO:https://sprunworld.com/wordpress/how-to/how-to-delete-ios-updates-to-get-space-on-the-ipad-or-iphone/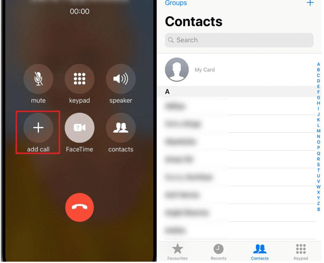 if you wish to start another call although on a call, just click on a + sign from the menu (as shown in the picture. You can also choose one contact or key in the phone number to start a call.
Start Conference Calls
By adding additional persons to a chat makes it more interesting. The extra, the happier. In iPhone you can easily add 5 persons at a conference.
To do this, drive to in-call menu and click on Add Call (+) button.
When the call becomes connected, you will specific new options.
tap on the Merge Call key, then two calls will be linked in a line. Likewise, you can insert more callers in a like way.
Even if one has done a call, others can stay on call.
SEE ALSO:https://sprunworld.com/wordpress/technology/4-techniques-that-ios-12-guards-your-privacy-better-than-ever/
Turn Audio Call To FaceTime
when you are on call with a person using iPhone, then you can easily switch to the face time by clicking on face time icon in the on-call menu, FaceTime lets you understand each other on screen and you can also use features like emoji, Live Photos, and incoming call signals etc.
Mute Incoming Call
When you are busy in one call and getting another call and you don't want to any disturbaunce by the call just mute the call. To mute oniPhone click on the mute tab on the in-call menu on you screen.
Reply Via SMS
Sometimes many of us face this situation like while driving we receive a very important call which we can't avoid and requires our attention. So, it is important to respond to that caller, you can do that by sending an automatic SMS to that person conveying the situation. 
To send an automatic SMS, when your iPhone is ringing just click on message button. Here you will get three options: Can I call you later? sorry, I can't talk right now, and I am on my way. Likewise, by taping on the right choice you can easily send a customized message. To pen a customized text, just go to Settings, -> to Phone-> Respond with Text.
Beneath Respond With, type a message that you wish to send when you can't pick the call
SEE ALSO:https://sprunworld.com/wordpress/technology/create-your-perfect-dream-using-iphone-apps/
Look Through Contacts
When you are on a call, and want to send phone number to friend, customer to a caller, you can do it ongoing call without going to home screen. On call menu, you can see an option contacts to go to contacts -> select the person number you want to send.
Listen To Audio/Video.
Yes, when you are on call, you can watch video or listen to your favourite songs without muting a call, and be involved in the discussion. To do that, just click on home button and go to any app you want. If you are using a latest model of iPhone, just swipe upward direction from the bottom of the iPhone's screen, and go to any app that you want!
Play Games, Writing Notes.
You can also play a game, write notes, use calculators etc. when you are on call. Just go to the home screen do whatever you want. 
Set A Reminder
We all know how to mute the incoming call (to. Avoid the call)? But if you want to call him later you can set a reminder so you will not forget to call him later.
Two kinds of reminders are available there. One will automatically remind you about the missed call after one hour. The another one will send the notice as it notices you have moved from the current place.
The second one is the best option when you are in conferences or meeting and the first one is the best option when you are in a gym or doing any short-range activity.
If you wish to set the reminder conferring to change in location, then you have to let the Reminders app to access Place. To access it, go to Settings -> Privacy. In Privacy, go to Location Services -> Reminders -> WhileUsing The App.