In recent years, the market for smartwatches has been relatively stable, with Apple dominating it with the Apple Watch. Although there hasn't been a lot of interesting smartwatch options, in the last two years, gadget manufacturers have rekindled their optimism by releasing a few novel products. Now that demand for smartwatches has increased, OEMs are back at drawing board, creating new models with creative looks, noteworthy enhancements, and a stronger emphasis on outdoor exercise and health.
Every year, new smartwatches hit the market with greater and more changes than the ones that came before. Garmin has begun to push its products even further, and some of them can now have an endless battery life. Samsung's products are more advanced than before, and there have even been reports that Google is developing a second iteration of the Pixel Watch. You've come across the perfect spot if you're looking to buy a new smartwatch.
SEE ALSO: The Best New Products That Many People Don't Know About
Top-Rated Luxury Smartwatches
Following are best smartwatches..
The new Apple S9 chip powers the Apple Watch Ultra 2, which also has better tracking. It is strong, durable, and has a 72-hour battery life in minimal power mode. It boasts the brightest screen of any smartwatch and offers sophisticated stats and views for tracking your exercise routine.
Advantages:
Long-lasting battery, Outstanding compatibility with apps and Precise tracking and sturdy build
Disadvantages:
Cost, and Size and mass.
Compared to the Ultra version of the Apple Watch (1st Gen), the Apple Watch Ultra Two is a little improvement. Like the original Ultra, the Ultra 2 is a tough and resilient smartwatch that has a titanium body. It has WR100 (100m water resistance) certification, IP6X dust resistance, and military-grade MIL-STD 810H testing. The watch is also certified EN13319, which allows it to be used for swimming and diving to a depth of 40 meters.
The Ultra 2 is packaged in just a single 49mm titanium box that has built-in cellular and GPS connectivity. The most recent Apple S9 chip and the more accurate UWB chip (Ultrawide Band) are both installed in the watch. The watch features a sizable 1.92-inch LTPO OLED screen that can reach a maximum brightness of 3000 nits.
The Ultra 2 includes a sensor for heart rate, an ECG, and other special health and fitness capabilities from the first Apple Watch Ultra, as you would expect. It's accurate and excellent for people who wish to maintain their health and get in shape.
SEE ALSO: The Top Smart Home Technology for Your First House
The Ultra 2 has an even longer battery life than its predecessor; typical reports place the watch's endurance at two to three days between charges. While power users frequently accomplish two years with intense training, regular users can get more.
The newest smartwatch from the massive Cupertino company is the Apple Watch Series 9. It has a speedier processor, an entire day of battery life, and new gesture-based functionality for the smartwatch.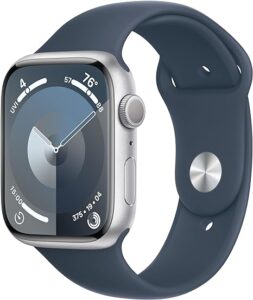 Advantages:
Stylish and contemporary design, Superior tracking and features, Practical low-power modes
Cons:
Appropriate battery life and Slight improvement over
There has been a little improvement with the Apple Watch Series 9 over the Series 8. Like its predecessor, it is priced at $399 and is among the best luxurious smartwatches for those looking for a great-looking watch to pair with their iPhones. There are other color options for the watch, such as Midnight, Starlight, Silver, and (PRODUCT) RED. Along with stainless steel, the watch has finishes in gold, graphite, and silver.
The larger 45mm watch has a 1.9-inch LTPO OLED, Crack Resilient screen, while the 41mm variant has a 1.69-inch display. With their 2,000 nits of maximum brightness and thin bezels, both models are highly visible in strong sunshine.
The most recent Apple S9 chip powers the watch, which can monitor hundreds of sporting activities, heart rate, blood pressure, and sleep. Swimming and diving shouldn't be a problem because it is also WR50 resistant to water for up to 50 meters and IP6X dust waterproof. This extremely precise smartwatch can often run for between twelve and forty-eight hours on just one charge, based on how many GPS and tracking services you use.
The newest wristwatch from Samsung is the Galaxy Watch 6 Classic, which brings back the cherished physical rotating bezel. There are two sizes available: 43mm and 47mm. You get a new and more potent Exynos W930 chip, a display that is either 1.3 inches or 1.5 inches in size, rapid wireless charging, an up to 40-hour lifespan for the battery, and numerous other improvements in One UI 5 Watch, which is based on Wear OS 4.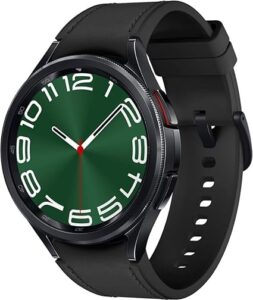 Advantages
Exceptionally wide and vivid display; easy-to-use rotating bezel; ample fitness functions; excellent design;
Disadvantages
Alright battery life
The 43mm and 47mm Samsung Galaxy Watch 6 Classic variants retail for $400 in the United States. With almost all of the features and peculiarities of the Galaxy Watch 5 Pro, but with a smaller battery, the Watch 6 Classic brings back the recognizable revolving bezel.
SEE ALSO: 6 Top Price Comparison Websites To Get The Best Deals
Depending on the model, the Watch 6 Classic has an AMOLED display that is either 1.3 inches or 1.5 inches in size. The Exynos W930 chipset, together with 2GB of RAM and 16GB of storage, powers the watch. The Samsung BioActive Sensor, which is temperature sensor, heart rate monitor, and other standard health functions are all included in these smartwatches, which have a comfortable all-day battery life. The watch tracks your sleep and can automatically identify sporting activities.
The Galaxy Watch 6 Classic is offered with Bluetooth-only and cellular connectivity, and it is available in stainless steel, black, and silver for both types.
With a plethora of new functions and a durable lifestyle-focused design, the Galaxy Watch 5 Pro is a worthwhile addition to your outdoor gear.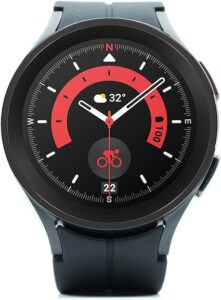 Advantages:
Long battery life, Outstanding features and tracking, It appears chic
Cons:
Samsung Galaxy cellphones are the only ones with certain features.
The largest battery in a smartwatch created by Samsung is found in the Samsung Galaxy Watch 5 Pro. Its 45mm Titanium casing, which houses a 590mAh battery and the Exynos W920 CPU, feels high-end and sophisticated. According to early reports, based on the activities being tracked and how frequently the GPS is active, it can run on a single battery charge for one to three days. That's one of the finest smartwatches we've seen so far, and it runs Wear OS extremely well.
The Watch 5 Pro is able to track all heart-pumping activities, much as the Apple Watch. In addition to the temperature sensor, there is a blood pressure sensor. It enables you to monitor your rest, exercise, and other vital activities that help you stay in shape. Although it functions best with Samsung smartphones, the watch is incredibly accurate and compatible with the majority of Android smartphones.
In addition to having 16GB of capacity for storing music and apps, the watch supports NFC and Google Pay and Samsung Pay. Based on Wear OS 3.5, the watch is running One UI Watch 4.5. In addition, the watch is rated IP68, MIL-STD-810H, and 5ATM, which means it can resist dust, perspiration, rain, and swimming.
The more potent Snapdragon W5 Gen 1 chipset, improved sensors, and a 1.2-inch AMOLED display are all included in the new Google Pixel Watch 2. With the wearable's more sophisticated tracking features, users may precisely monitor their blood pressure, heart rate, ECG, sleep patterns, and a range of sports activities.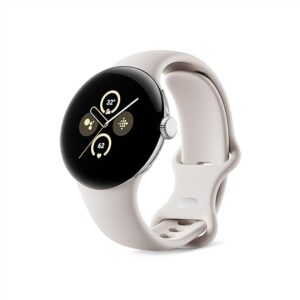 Advantages:
Streamlined, contemporary, and simplistic design, Quick and nimble operation, Precise tracking, Extended battery life of up to 48 hours or 1 day when AoD is activated
Disadvantages
Looks a little antiquated compared to the first version, Needs a Fitbit subscription to access all features.
Compared to the original Pixel Watch, which was released in 2022, the Google Pixel Watch 2 is a far better wristwatch. The watch has all of its characteristics from the previous model, including accurate sports activity monitoring, a smooth Fitbit integration, and an ECG. It is powered by the most recent Wear OS 4 operating system.
A 1.2-inch AMOLED display with Always-on Display (AoD) is included in the Pixel Watch 2. With a maximum luminous intensity of 1000 nits, the screen is sufficient for most use scenarios in direct sunlight, although not being as vibrant as other competing devices. Additionally, the watch is rated IP68 and 5 ATM, so it should not have any problems with dust or water up to 50 meters deep.
In contrast to the first Pixel Watch, the Watch 2 has been powered by a little older Snapdragon W5100 CPU, which is more capable than the Exynos 9110 SoC from the previous year. The watch still has 32GB of storage and 2GB of RAM, so you can download a ton of third-party applications and watch faces and unload songs with ease.
The watch's battery has also been increased, moving from 294 mAh to 306 mAh, although the updated chipset is mostly responsible for the watch's enhanced performance. When active, the Pixel Watch 2 can survive up to a day, but when disabled, it can last more than a day, according to Google. The watch is available in three colors—Polished Silver, Champagne Gold, and Matte Black—and has a 45-minute charge time. Its starting price is $399.