Every one of us spend lot of money to buy iPhone, you can be assured that it comes will full incredible features. Most of the iPhone users must be conscious of health app in iOS, however how many of you are aware of its life saving feature in the medical ID. It holds your health info that you, doctors or paramedics can use it in emergency. Your iPhone's Medical ID assists responders first to approach your medical info from the Lock screen, and no need to use password. This great feature helps to offer medical support at the hastiest to the individual concerned. It will be also useful for reference while visiting doctor.
Have you created your Medical ID on iPhone? not yet? better set it up now because it could protect your life and safe side too.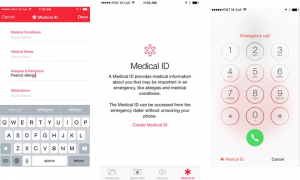 How to Set up Your Medical ID on iPhone
Install the Health app then click  Medical ID and click on Edit.
Input your emergency contacts particulars and health info like name, DOB, blood group, allergies, medical details and so on.
Clasp the "Show When Locked option" to ON, so that the medical details will be accessible even when phone screen is locked. In emergency, it will be helpful for people to approach your medical info and other related informations. once the information are entered, click DONE.
If you want to correct the medical informations, you can do it by clicking on the related tab on the screen. Likewise, if can also delete your secretive medical details.
How to Access Medical ID From a Locked iPhone
In case of an emergency, you can access medical info enclosed in a Medical ID even when a iPhone is locked.
You can see an Emergency option on the both the screen (locked and unlocked screen). Click on that option and it leads to the Emergency Call screen.
Click on the medical ID at the bottom to see the user's medical details.
There is another great feature in this health app, if you wish, here you can register yourself as an organ donor. But this feature is accessible only in US.
If you are residing US, just sign up to become an Organ Donor with the Medical ID.