Now-a-days clicking selfie in smart phone camera has become a daily routine for all. There are lot of camera apps available in google play store which helps you to click beautiful pictures by applying various filters and modifications.
Now  here we are going to discuss about the apps that alters your pictures into cartoon characters in no time. These 5 cartoon making apps comes with lots of features, easy to use and you can share directly to social media.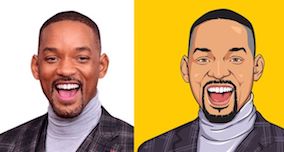 Best cartoon making apps for android
This is really wonderful and greatest cartoon making app. It has lots of special modern art filters, it helps you change your pictures into paintings and cartoons. It comes with cartoon filters, you can use it to alter your picture into cartoon or simply use those filters straight in your selfie camera to snap cartoon picture of yours. Cartoon Art Pics Photo Editor app has a simple user interface. So, this android app is a perfect app to create cartoons of your pictures.
Android app cartoon photo editor will alter your picture into cartoon. It comes with numerous types of filters that you can use to your new pictures and existing pictures to turn those images into cartoons, sketches, pencil drawing, oil painting, etc. when you are finished creating artwork, you can easily share it in social media directly from the app. So, are you ready to change you smart phone's photo gallery in to an art gallery?
This wonderful ArtistA Cartoon & Sketch Cam app will change your picture into a cartoon character. It lengthens your selfie camera by offering the choice to immediate filters for selfies and photo editing. It also has great prism effects. If you devote some time to transform your pictures by using this app, you will be skilled to build wonderful artworks.
This great app helps to turn your images in to cartoons which really works fine. It also has a lot of emotions and filters, you can utilize it to build awesome cartoon characters of by hand. Massive list of beauty makeup and backgrounds effects are available in the app that mark it as a great app to cartoon yourself.
By using cartoon yourself app you can make cartoon of your images in few minutes. Just install the app and launch it, choose the picture then apply effects from inbuilt effects in the app. Now, your picture will be curved into a cartoon character. If you want you can download it to your phone. This app supports .PNG, .JPEG, .GIF IMAGE FORMATS, and its easy to share the image to social media to show it to your relatives and friends.