Amazon owned a price comparison site Junglee.com.  It sends you an email to alert about the prices of the product you want to buy drops by a certain amount.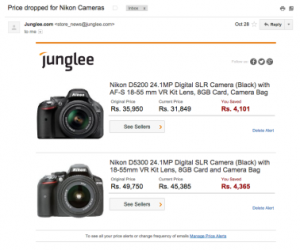 Amazon owned jungle.com is perhaps the chief price comparison website in India. There are other comparison engines too but they maximum emphasis on the "popular" online sellers, but Junglee lists from smaller stores to big stores, we also get information's of aren't well known brands but may sometimes offer better deals.
Get email notification junglee when price drops
Many of them don't know that jungle offers price alerts. It is very useful features in junglee. But this feature is not available in parent website amazon.
You can add items one or more to your watch list on junglee.com, whenever prices of a monitored product goes down the site will alert you by sending email.
How to set price alert in junglee
Just open any product page that you are willing to buy in jungle.com like listing of Apple laptop – now click 0n "screenshot" button that say "price too high" now click on "set alert" button that's it. Now product will be added to your watch list. You can manage all your price alerts from this page.
Junglee's price tracker is really very reliable.
But the only drawback is it will not show prices from the biggest e-ommerce websites like snap deal and flipkart. To ride out this problem you can always build your own price tracker using googlesheets.
Image credit: Google images