How to create html signature?
Create rich HTML signatures with imageries in outgoing gmail messages. You can use it right inside gmail itself and no add-ons or browser extensions required for this.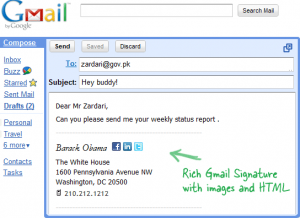 There are many way to create email signature like you can use HTML editor And copy paste entire thing to gmail message or you can use email signature in outlook or you can get browser add-ons to style rich HTML signature straight on the gmail/google app website.
But there is another option where no extensions are required. Here you can create multiple signatures for one gmail account .
Steps to create Gmail signature:
Go to Gmail settings -> click LABS -> go to "canned responses" and select enable as well as "Imserting Images"
Now go to compose write new message in Gmail and style a signature just like you would compose in any other email message. Stay creative.
You can use an image which is already on web or you can upload icons and logos from your computer.
After styling your new HTML signature, go to "canned response" menu and save. It's better to give logical name like 'personal' for a signature which you like to attach to your personal emails. Now you are done.
Here and now when you are composing new message or giving reply to the received mail, just select the relevant signature from "canned response" drop-down. It will be just pop in inline.
Image source: Google images