Printing hard copies of documents is one of the basic tasks PC can perform. Now you can also print hard copies from tablet or android phone and you don't need any special hardware to do that.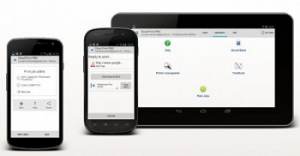 Yes, Google cloud print will let you to print straight from tab / android device to a compatible printer. You can print your favorite pictures or documents to almost any printer.
If your printer is not compatible, you can still print over Chrome, as long as it's running on the PC that this incompatible printer is attached to.
Step by Step Process to print directly from android device:
First sign in to chrome using your google account. Click on settings button find nearby top right corner of your browser and scroll down and click on "advanced setting". Now find 'google cloud print services' under advanced setting -> click on "manage" button to add or remove printers -> click on 'add printers'
Now your printer must be added automatically. Click "manage your printers" here you can find a list of all printers you can print and spot for your local printer.
Go to your google play store on your android device and search for cloud print -> install cloud print app.
Sign in to the similar account you are using on you PC -> click setting on top right -> choose printer that you have set up from the list.
Now choose "printer settings" and configure your printer. Most of the default options offered in your printer driver must be here, including orientation and number of copies required.
In cloud print click on local tab -> choose the type of file you want to print -> then choose it from the list of option. Now ready to print page will appear. Now you can make final modification in page setup. If modification not required, just click "click here to print"
There are few google apps like google drive and email will let you to print from the menu. If you do not find any print option, select share. Cloud Print would come up as one of the options.