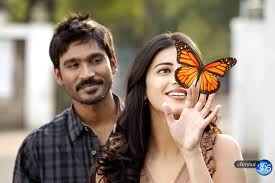 Movie"3"
3 is nothing but 3 stages of life. School stage, college stage and marriage.
Hero- Dhanush
Heroine- Shruthi Hasan
Director – Aishwaraya Dhanush.
After the big hit of kolaveri song, expectation on movie "3" was increased in me. I was anxiously waiting for the "3" release.
My husband gave me surprise by bringing ticket for movie "3", with full expectation I went to the movie.
The very starting scene itself the whole family members are crying in front of the dead body but it was not shown to us. There the suspense starts.  Whose dead body it is? this grows curiosity inside us. Later they slowly relieve the secrets of the story by showing each stage.
The first half of the movie is enjoyable were youngsters enjoying a lot. There is big applause for certain scenes and dialogues. When it comes to second part it was totally opposite from the first part.
In the second half, the tale takes a dreadful twist, where it is revealed that Ram(Dhanush) is suffering from psychological disease called Bipolar Disorder,. Then, its subject focuses on his struggling to come out of the sufferings. I don't want to relieve the suspense it's better to watch on-screen.
Dhanush acting is awesome, in school dress he is really looking like school boy which took us back to his first movie Thuluvatho illammai. Dhanush acting in all 3 states are good. In climax scene his performance is outstanding, the way he showed expressions, feelings, fear, hesitation on his face. overall in second half Dhanush acting is simply superb.
Shruthi Hasan acting is also good in this movie.  
After the Kolaveri Song hit Dhanush become popular all over the world.  This gave him a chance to have dinner with Prime Minister of India Mr. Man Mohan Singh and Japan Prime Minister Mr. Yoshihiko Noda.
Verdict: It is not advisable taking kids to this movie.