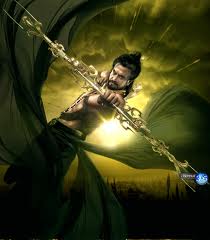 Superstar Rajnikanth movie Kochadaiyaan shooting is going on, his younger daughter soundarya is the director of this movie so at the beginning of this movie shooting Rajnikanth felt uncomfortable, but later by seeing her direction skill he shocked and felt very proud by seeing her daughter, then he started seeing her as a director.
Kochadaiyaan, is a period film, is not inspired by history. "It is a fabricated subject and we are going back in time. The film is a fight between good and evil," says Soundarya, a first-time director, who aims to release the film around the world.
Soundarya says " I am a die-hard fan of my dad.
She says that in her father's carrier he never made a film in which he has played a warrior. So, now she showcasing him as one, with a six-pack and bulging biceps.
This film as the first 3D animation fantasy being made in India, 27 year old Soundarya says the main inspiration behind the film was her desire to 'immortalize' her father.
"This technique allows us to do so much more innovatively than what live action films can push. It's different from visual effects where you shoot live and composite it with a CG background, but in this film everything is going to be created in the studio. This is going to be something outstanding visually," she explains.
Rajini kanth says that it is a tough job to imagine and act in motion capture technology. There's lot of imagination and miming involved. It is different from normal films and one has to visualise and improve a lot to get into the the character — without makeup, costumes and in unusual locations."
Rajini kanth written the story outline for the film, which is being made on the lines of Steven Spielberg's "Tin Tin" and James Cameron's "Avatar".
Rajnikanth is even singing a song in this film. "It's not singing, but almost like reciting or chanting quotes," says the film's music director A.R.Rahman.
Kochadaiyaan movie is expected to release on November 11 of this year in multiple languages English, Hindi, Tamil, and in japanese because Rajini Kany have many fans in Japan .
By seeing the poster of Rajini Kanth in Kochadaiyaan I stunned. He is really perfect for all characters. As a ROBO he rocked now as a Kochadaiyaan he is going to rock.
By,
RPoornima