There are lot of video formats and  choosing the right video format for your project is very important. After finishing the editing work in your video with video editing software, you will surely wish to share it with your friends and family. To save your videos for a particular situation, there are several file formats to do so. Below listed are the video file format and consistent circumstances best suitable for them.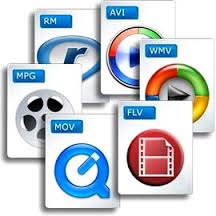 Best sharing format for online video platforms
MP4, FLV, AVI REAL VIDEO OR MOV are best video formats to share on online video platforms like youtube. You can also use WMV, MPEG and SWF.
Video formats for websites
If you are making video for your website then HTML5 or WEBM are the best choice as these two formats have small sizes and make them easy to stream. So your visitors won't have to wait for too long when they watch video on your website.
Types of video formats
FLV
This video format is new and popular version of flash with its fast fame because of YouTube. It is mostly accepted formats and it has two options Streaming and Progressive download. This format works on the entire device that has Flash like mobile, tabs, ipad, personal computers.
MPEG 4
MPEG (Moving picture experts group) is supported by a many players. These files are easy to play on smart phones with viceo support, PSP ipod etc. Using small file size and good quality this format lets for more media components and interactive video.
AVI
AVI means Audio Interleave. It is a standard video file format of Windows and it is good for uploading to video site like Google, video, youtube etc. This format is supported by all computers that running on window and all famous browsers. If you want to play a file on non-window computers, you can use the codec.
WMV
WMV is a format developed by Microsoft. It works on all computers and smartphones that using Window OS. It requires an extra component to play this format on non-window PCs and you cannot play some videos in this format as it needs a particular codec to play.
Mov
Mov is confined format, you can use codec (there are different types of codec)to compress the video and audio. You need quick time software to play these files in this apple precise format. The video quality and fie size is dependent on the type of codec used. As videos in this format needs quick time to play, so it limits the number of viewers.
Real video
This format is developed precisely for the internet and it was developed by Real Networks. The striking feature of this format is that it works perfectly well streaming on small bandwidth, but the video's quality is compromised. You need to install extra software to view in this format. So if you want to save and share your videos in a specific format, you must select the formats that can run on various platforms and doesn't want any specific obscure player.