The New year is coming closer and many individuals and groups wants to plan their professional and personal goals and objectives. There are some great work management tools for both groups and individuals, whose goal is to develop the productivity communication, facilitate coordination and association in a team and, eventually be more effective.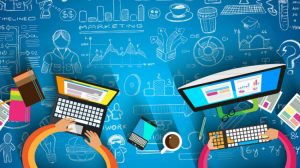 Work Management Tools To be More Productive in Work and Personal Life
Work / project management is a tiresome job for both small and big business organizations. People keep rebellious in managing, assigning, reporting and keeping a track of work of all individual in the project. Here are some work management tools to make your work easy, this tool will help you to manage, establish, track resources etc.
1. Taskworld
Taskworld is a great project management tool that helps to be beneficial in their work life. Taskworld is simple tool and easy to use and it bids precise analysis of every project and work.
Taskworld has many brilliant features and some leading companies like Amazon, Yale, Accenture, NETFLIX etc. started using this tool and affirmed as the best one. If you want to be more productive in the work management, then taskworld is a best choice.
The price of taskworld is reasonable. The basic team and solo versions are around $4 to $7 per month. All the following features in this price is great and worth deal.
Taskworld features
User-friendly & interactive dashboard
Simple and easy to use
The handy visual task board
Proficient File Management
The Comprehensive Analytics
Deadline Tracking with the Timeline Fea
Interesting Chat Features
2. Asana
Asana a great tool lets us to create different workspaces to clearly classify projects and equipment's. Asana lets us to delegate tasks and significances for all team members, keeps trail of all projects and tasks and see if any variations in real time. The description that shows on Asana's home openly explains the mission of this firm: "Do great things.
Asana is a list of responsibilities shared with your team. The place to plan, establish and be synchronized. "
There are many tutorials on the Asana website to study how to use this tool.
Asana is a wonderfull tool promoted by Facebook co-founder, Dustin Moskovitz, in cooperation with another earlier employee of the social network, Justin Rosenstein.
Price: Asana is free for individuals and for team up to 30 members free. If members are above 30, there are corporate account and its price is $100 per month.
Asana feature
Project progress graphics.
Super complete tool.
The free version supports up to 15 members.
Division of work by projects. Very tidy.
Useful for big teams with different departments.
Its assimilation with tools like Harvest makes it great to check the time we contribute to every task.
3. Trello
Trello is a great online tool for combined project management that uses a Kanban methodology in an excellent visual way. You can use it to manage large projects and for small personal tasks. It is easy-to-use, very instinctive interface and with drag and drop functionalities.
Trello panel is completely customizable, so you can insert the columns you believe as suitable, varying on the project. If you have a blog, for an instance, a structure like the GIF is good. Create task, sub task, put description to task, expiration date to the task, put labels to each task and so on.
Trello features:
Great instinctive and cool to use the tool.
Just at a glance, you can grasp how your work is going.
The free version covers the massive majority of the requirements created by a project manager.
It supports a huge number of applications, like Harvest, Slack, and Asana.
It also has a mobile App, and it is too good.
Wunderlist
Wunderlist task and management tool helps lots of people around the world to apprehend their ideas, work to do, and places to visit. When you are working on project, planning vacation, etc. wunderlist makes it easy to share and collaborative with everyone in your life. It has a naive and easy to use interface, and lets you to modify the background to your desires. Wunderlist instantly syncs between your computer, phone, and tablet so you can access your lists from anyplace.
 Wunderlist features
Easy to use. Adequate for small projects
It is easy to use, has mobile apps and web. It is free.
Easy, organized and efficient
Timecamp
TimeCamp task management software is easy-to-use with lots of great features like manual and automatic time tracking, graphical timesheet, invoicing and great reporting.
It shows a weekly summary and the monthly summaries which helps you to understand how much time you spent in each project. It works in background. It also helps in tracking budget with tasks and you can see the overview of each projects and programme them in to priorities.
After using the work management tools, let us know your view in the below comments section and let our readers select the best one