How to embed fonts, spread sheets, maps, charts videos, mp3 music, etc. in your website / blog?
Learn to embed whatever you want to in your HTML web pages.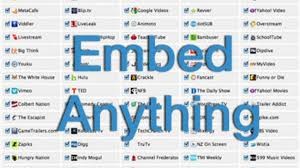 Embed Graphs and Charts in website (web pages):
You can create any chart inside Zoho Sheet and publish as an exterior image without revealing the full spreadsheet. If you want to create a chart with low volume of data, better use Google charts .
Embed Very large Images:
You can embed very big image in your blog by using The Google maps viewer or deep Zoom. These programs break your images in to small tiles and you can zoom/pan across images which is similar to default border of Google maps.
Embed chat in your website/blog:
Meebo me is chat widget you can use this in your website to chat with your visitors, you can also place it in side bar of your site.
Embed word documents:
Just upload your word document to scribd and they will provide you the embed code in flash. Scribd supports Doc and also the new office 2007 docx format in addition to open office documents.
Embed Google map in webpages:
Embedding Google map is website is quite is as adding an image. All you have to do is, just open static map wizard, quest for site which you want to embed and specify the dimension of map. It provides a URL that essentially points to a static image of that map.
Image credit: Google images