Everyone likes to keep attractive wall paper but, to see the wall paper one has to open the lock screen. Here are some lock screen apps that is very comfort, attractive and ease to use.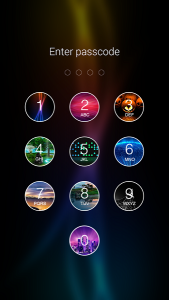 LokLok: (draw on a lock screen)
This is really very creative lock screen app. Here you can theoretically draw something that no one can except to unlock with guessed and known attempts. It works as widget as well as lock screen.
Users can also set lock screen in the group of friends they are linked to. The images will be updated to all phones in the group allowing them to comment, draw, and leave note like as drawing on the white board – both side access.
CM Lock – iOS lock screen for android:
Of course everyone likes the elegance simplicity of apple iOS lock screens.
This app has a very thin fonts, swipe lock screen, and translucence over the lock screen wall paper. This app CM lock screen creates the surroundings that is much anticipating from the android.
Echo notification lock screen:
This app is the best lock screen app to get control over the application warnings though the phone is locked. It shows the complete warning not just summary of it.
It is clean and forthright lock screen UI with distortion on the hind screen lock wallpaper will style the UI to look excellent to utilize.
DoDol Locker:
DoDol Locker is really awesome app and high-quality themes are available in this app to make your phone look more attractive and spectacular.
The customization of the lock screen is greatly highlighted in DoDol locker lock screen app for Android. The default lock screens with PIN numbers and pattern security lock can be customized as the way you want them.
Go locker:
Go locker lock screen app is the top installed app on play store. This lock screen has variety of high-quality themes. Users can customize this lock screen by using customizer settings.
Users can customize the PIN screen and pattern lock screen as they wanted and it also lets users to read messages right from its lock screen.
Go locker app features are simple and easy to use.
If you find some other best lock screens for Android gadgets missing.. please mention them in comments below.
Image source: Google images