Now technology is growing very faster. So it's very important to know the latest technology news to keep ourselves updated. There are some must have tech news apps which offers a tons of tech news, reviews, latest news, products and interesting content.
Best Tech News Apps
Appy Geek
Appy geek is an excellent app for tech news where you can access news from more than 30 top publications. This app has a related content engine which displays you a related content like the one you are reading.Appy Geek also has community with lot of people where you can follow liable on the content they share.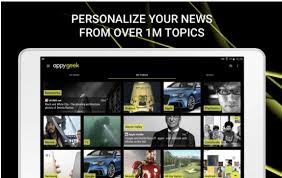 Techcrunch
Techcrunch is the best technology blog created by Michael Arrington. Techcrunch provides you boundless ideas of where the Tech business is heading. Their authors pen a lot of view sections assorted with latest news, reviews and scoops. Getting covered on Techcrunch is a big dream for a lot of entrepreneurs.
Tech crunch have the great writers in their team, techcrunch app is the best app for tech fans.
Engadget
Engadget app is an important hub for gadget geeks which has both articles and reviews that conversation about the technology behind the gadgets. The contents in this app are original and first it comes in this app compared to other apps as this is the first blog in internet revolution started in 2004.
Medium
Medium is an excellent app available as a web app and also as a mobile app. The content in medium is creative, original interesting and funny. There are a lot of Single sections written by people in the Industry (it is for a more advanced audience).
Here you will not see "12 essential gadgets that you need to buy" instead you will see a lot more of "The Future of Technology and how you can be part of it". The writers in Medium are experts from the Tech business and they pen a lot about their personal experiences. Here you will get altered outlook of Tech New. Medium is your go-to app.
Product Hunt
Product Hunt is only for iOS. This app really curates all the top products that are getting launched. This app shows you all excellent tech related product in the world that inspires you. This platform provides a voice to young however daring creators in the tech space. This is a must have product, if you like it.
TechUntold
Techuntold app has original content that are funny informative, futuristic and very useful. This app covers all tech related news, it's all about niche products and ideas.