Now the world is on fast forward speed and in the former 7-10 years we have seen a drastic change in technology .  Here we are sharing some interesting technology books.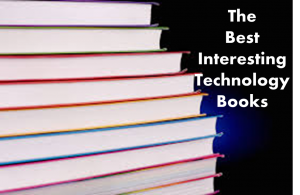 The Best Interesting Technology books
The Inevitable is a tech book written by Kevin Kelly. He is leading technology thinkers and a very good writer and his prediction for future in this book is amusing.  This book is very informative, delightful, interesting and insightful.   Anybody interested in building products, potentially inspiring for some good ideas.
The Industries of the Future is a book written by Alec Ross. He is a leading innovation expert clarifies what's next for the world. . He pulls on that knowledge to predict which industries will arise and develop more than others, offering genomics, robotics, cybersecurity and block chain (among others) as instances. In fact the world is already breaking apart in 2 divisions the old world and new world with filled of technology and infinite opportunities to mature idea to help humanity.
SEE ALSO: List Of Sites That Providing Free ebooks
Alibaba: The House That Jack Ma Built was written by Duncan Clark.  This book is about Jack Ma journey from English teacher to billionaire. CEO is very powerful and popular retailers in the world; Alibaba. Duncan met Jack Ma in 1999 and become an advisor to him later in his journey as an entrepreneur. Jack Ma built an industry where internet penetration was absent.
So finally, this book is all about failures and victories Jack Ma faced and how Jack Ma was capable to take on digital leaders in China and in US.
Whiplash technology book –  written by Jeff Howe and Joi Ito. It is an interesting book, as technology developing more rapidly and economy and as social networks make everything handy in ways that were profound not long ago, most features of our day-to-day lives will be impacted. . In order to prosper in this new standard, one must think in a different way.
The Book Originals was written by Adam Grant. Grant is a great thinker and this book is a well written interesting exploration of the origins of originality and how our society nurtures it.  The author customs captivating anecdotes to get his ideas through and writes in a clear and brief manner. Over all, this is a great book  and wildly entertaining, and you'll get so much out of it.Great book!
How make spaceship book was written by Julian Guthrie. This is really an excellent book. In this book Julian Guthrie says the story of Peter Diamandis, a sequential entrepreneur who  dreamed big and reminded focused in putting a private space craft into the space. When it was first thought, it was just a dream, but Peter Diamandis persistence and efforts made this dream a reality. NASA's conclusion to end manned missions to space providing additional fodder for him to get involved to help create the private spaceflight industry.
The Upstarts book was written by Brad Stone. This is book a biography of JeffBezos and Amazon and some other world-beating firms and the entrepreneurs behind them. Its main focus is on the business competition between Travis Kalanick, co-founder  of Uber,  and Brian Chesky, co-founder of Airbnb to change the world and set their brands, and that have significantly changed trades and our lives in many ways. Finally The Upstarts book is an interesting book to read.