Here's an online shopping websites which gladly ship products to international addresses outside the US (united states).
How will you buy the products which are not available in local shopping but available in U.S. online stores? Here now you got an easy option to purchase. There are many online shops (retailers) in the United States like macy's and toys "R" Us, are now shipping their products to customers in International destinations.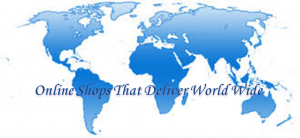 Here is the list of online shops that deliver products to all international destinations. You can do your payment through international credit card. Some of the stores also accept payment thro' paypal .
List of online shops that deliver world wide:
amazon.com: While you shopping for items on amazon.com, first turn on the option to "amazon global eligible" (do it in search box in there) and shows the products available which can be shipped to your country. It also shows the import fees during checkout. So you can know how much will the product cost exactly.
ebay.com: Ebay has a nice program called Global easy buy program. Here you can purchase your required items from international sellers in US. Here you pay money in rupees; payment is inclusive of all taxes, freight and duties.
SEE ALSO: How to product online privacy
Overstock.com: This site ships kitchen appliances, furniture's, jewelry, beauty products, watches, electronics, fashion beddings and many more.
newegg.com: This site is a famous online retailer amongst geeks. Here you select option "newegg global eligible" so that you can see the products that only ship internationally. In newegg.com you can shop for computer peripherals, and components like processors and motherboards.
macys.com: In this site you can shop for bags, cloths, fashion accessories, watches, all branded items. It is a largest departmental store in the US.
jcrew.com: Here you can purchase wedding wears, jewelry, clothes etc. with flat shipping fees.
jcpenny.com: Here the prices are in Indian rupees. You can buy everything for your home and wardrobe.
dx.com: Here you will get cameras, gadgets, mobile phones and accessories, water sport, travelling needs and many more with free shipping from Hong kong.
zazzle.com: In zazzle.com you can upload your own images and create customized mobile cases, posters, and t-shirts etc. They also have a section for Google Doodles merchandise.
Image credit: Google images