A single wireless keyboard along with an integrated touch pad which we refer as all-in-one keyboards. This keyboard is a perfect resolution for the people who wish to lean back and work in computer and who need to use their computer from some distance. There are lot of wireless keyboards for mac and windows available in the market and it's difficult to choose the right one. Here we some of the best wireless keyboard. Read and choose the best one.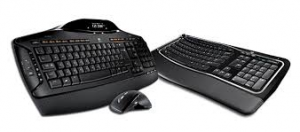 Microsoft all in one keyboard
It is most reliable all-in-one wireless keyboard. You can pair this keyboard with your home theater PC. It is sufficiently spaced keyboard and has a large touch pad. This touchpad supports multi-touch gestures for window 10 which is ease for you to scroll and swipe with no issues. It also has 2 customized media keys.
5 Best Wireless Keyboard for mac and windows
Following are the best all-in-one wireless keyboard for mac and windows
Logitech K400 plus:
Logitech keyboard become more popular and it was preferred by many users because of its unifying receiver.  It uses the same USB dongle as a receiver for many Logitech devices. This keyboard does not support Bluetooth.
This keyboard is powered by AAA batteries which will last for long and its range is about 10 meters. Its touch pad is smaller but this keyboard supports scroll and multi – touch gesture.
SEE ALSO: Excel Keyboard Shortcuts That Will Really Save Your Time
Gosin Ultrathin Metal Bluetooth All-in-One Keyboard:
Though Gosin is not a popular brand but its wireless keyboard (all-in-one) is well known on Amazon and Customers reviews are very positive.
This keyboard supports Bluetooth connectivity. You can also connect this keyboard through USB dongle, however its default Bluetooth connection protects you a port. Gosin's keyboard Bluetooth connectivity is very compatible with several devices. You can also connect this keyboard to android devices, media players, media streamers and more.
Logitech K830
Logitech K830 is the best all-in-one wireless keyboard. It supports Bluetooth, wireless USB and lets to connect with all sort of interface that you wish for, it also lets you to connect with android devices.
The best part of this keyboard is illumination. At night when you are watching TV, you may not be able to see the keys of keyboard clearly. So,this illuminated keyboard has back lights to see the keys of keyboard clearly. As you know that backlighting consumptions more battery. Thus Logitech K830 comes with lithium-ion battery so it can be charged with standard micro-USB cable. By single switch, you can flip the keyboard both on / off as per your requisite.
MeshWe Bluefin for Apple Keyboard and Trackpad
MeshWe Bluefin is an all-in-one keyboard for apple devices and you can use it for your iMac too. Bluefin keyboard supports Bluetooth via magic trackpad and apple keyboard and it does not support USB dongle.
Bluefin's plastic case lets your finger to drive further to register clicks on the Magic Trackpad and effortlessly you will get used to it.