Now editing images using software is easier than you think, by using photo editing software and apps you can alter you image backgrounds, remove spots, rotate crop etc.
There are some best photo editing software where you can do photo editing in ease.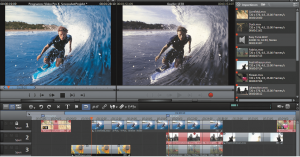 List of Photo Editing Software:
Photoshop:
This photo editing software photoshop works in all devices like desktop, mobile tablet etc. it also has lot of features like artworks, 3D, pattern, filters and some very progressive photo editing techniques. Tutorials and videos are available in this web to discover more on this software.
Here its veryin this SW you can combine multiple images, retouch photos, and remove objects by utilizing full set of professional photography tools and apps. Make a lovely 2D composition that feature 3D models. Fast reposition models and change camera angles and lighting.
Photo pos pro: 
This photo pos pro is a good choice for all image editing and this SW has wide range of selection options and paint tools. It also has more features and support includes masking, layering, and scripting tools that permits automated editing tasks.
There is one more interesting feature and fun element attached in "magical" effects like you can add stardust, bubbles, fireworks etc. effect on images.
Photo Scape:
Photo scape is free software. Its very easy to use and fun photo editing SW as it allows you to fix your images besides and enhancing them. This software has lot of features which ease to use. You find it by digging deeper into this tools. That is why many readers recommended photoscape as a best photoediting software.
This photoscape offers different modules like viewer, editor, batch processor, raw converter, file renamer, print layut tool, screen capture tool, color picker etc. This program is limited to working on a only one document at a time. If you want make changes in picture on which you are working, you need to  save the existing file and close it.
Light box image editor:
Light box image editor is free and powerful image editing software. It is forthright editor used to increase your pictures and make them look awesome with some professional touch. You can make comparison of your images before and after the alterations with split screen views. This image editor has tool to crop, ad borders, sharpen, correct red eye, resize and print. You can also use extra features if you go for paid version.