Nature is the art of God. Wherever we are, that doesn't matter; we are part of the nature. Nature plays key role in everyone's life, what happens next is the matter. Everyone likes to know the real-time weather report as it is helpful for the people to plan their work according to that, predominantly for travelers, sales person and other. Previously it was difficult to predict weather, but now there are some weather apps to help us.
Now it's quite easy to predict the weather of this Mother Nature. Yes, there are some excellent weather apps and widgets for android / tablet. These apps and widgets provides a detailed weather report.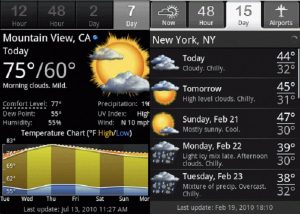 List of Best Weather apps for Android:
1Weather is a free and great weather app, developed by onelouder. 1Wather is the picture-perfect app to get weather information's with ease and comfort. It displays all weather details in a simple and organized way. This app also lets you to track and view weather forecasts for up to 3 months, Precipitation forecasts and current conditions. You will get present updates wherever you go like – visibility, temperature, win speed, humidity, barometric pressure, UV index etc. and this app allows you to access precipitation forecast, maps, weather graphs etc.
You can also track your selected 12 locations for "My Location" and share weather information with others. You will also get Severe Weather Alerts but it is only for US from the National Weather Service.
 ASUS Weather (weather)
Asus weather is most trending weather app, developed by ZenUI, ASUS Computer Inc. This app comes with Realfeel feature that says you all the information with a simple window that displays you what the temperature really feels like. This app aids you to get exact real-time forecast relating to the chance of rain, wind strength , humidity levels, and expected precipitation depth.
Asus weather also shows Sunrise and sunset times, wind direction and speed, Ultraviolet (UV) index, Hourly prediction, and more. If you want you can ASUS weather widget on your home screen to see the weather, where you're going, where you are now etc.
This is really a best weather app for android
GO weather forecast and widgets (free)
GO weather forecast and widgets app has both app and widget available for free. This app is developed by GO Dev TeamX. GO Weather Forecast & Widgets has more than 500 million globally. This app is really awesome ease to use and customizable.
Go Weather offers perfect current and future weather information with lovely widgets, live wall papers and themes. It also shows real-time weather report like immediate weather temperature and status, humidity, feels like temperature, UV index visibility, etc. It also offers hourly and daily forecast, wind forecast, weather alerts, precipitation forecast, radar and map. In this app you can easily share the current weather status with lovely images.
Weather underground (free)
Weather underground has both apps and widget. This app is developed by Weather underground. This app has 2 various forecast modes NWS forecast and forecast on demand. You can change among them as your desire. It delivers the world's greatest perfect hyper-local weather forecasts, satellite maps, interactive radar and severe weather warnings. Using this app, you can easily see the present temperature and conditions from local weather station and also humidity, dew point, visibility, feels like, direction wind speed and more.
There are some other features like crowd reporting, health tile, national weather service radio and push notification.
Weather and clock widget (free)
Weather and clock widget is an excellent app with clock with clock and date widget that provides detailed current weather observation and weather forecast for all world locations. This app quests for your address automatically, and shows the current temperature in Fahrenheit and Celsius.
It shows up-to-date weather condition, visibility distance, relative humidity, precipitation in different unites, dew points, atmospheric pressure, wind direction and speed, UV index additionally 10 days future forecast and hourly weather.