Learning a new language is not an easy task. It may take months or years of practice to become fluent and comfortable. But, while travelling to other countries on tour or official trip definitely we need a help in translating language. There are some translator apps which solves our language problem. These translating apps are very fast and quite easy to use which helps you to bond the communication gap.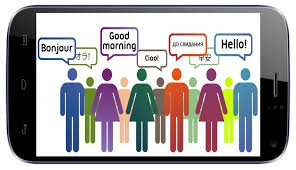 Think you know google translate via browser, but now you can have it in your mobile too. Google Translate is complete translator apps available for free. Just by typing, picture, draw or say a sentence / word in micro phone and it will translate it.
Thus, now you have more than 90 languages in database and you can travel anywhere in the world. In this app you have 4 ways to enter word / phrase. (1) You can type it in (2) if it is a symbol and you can't find it in basic keyboard, you can draw it in using your finger. (3) you can use micro phone, you may remember some word or sentence but you don't know meaning of sentence, so with Google you can say the word / sentence into microphone this app will find it for you. (4) you can capture a photo of sign / menu item then this app will find the word and let you know.
Pros: Cool to clasp between languages, Word Lens lets you to point camera at text and get translation, Facility to save translations you use frequently.
Cons: Tough to copy & paste text from other websites or texts, Some languages are more incorrect than others.
SEE ALSO: 5 best weather apps for android
iTranslate is quite easy to use. This app has more than 90 languages. You just type the sentence that you want to translate and you can share newly translated sentence through email, text message, FB etc. if you want to say a word but you are bothered about pronunciation then this app will say it  loud for you. If you type anything wrong, this app will help you to predict what you are trying to type. This app is available for free. If you want to get ride of ads and to use voice commands go for premium version, cost $5.
Pros: Easy to clasp between many different languages, Facility to share translations via social media or text, Straight forward menu.
Cons: Ads are very disrupting,  hard to write symbols, Needs internet to use pronunciation said out loud.
Waygo will be the perfect app for the people who are studying Chinese, Japanese and Korean. Drawing a character with your finger is difficult, so this app allow you to click a photo that you want to translate. Just pull images from your gallery for translation.
Pros:
Permits you to save translations
Comes with light
Camera function is ease to use
Cons:
Supports only three languages
No search function
Can't read handwriting
Voice translator app focuses on conversations. It records sentences. phrases and translates them to language you chose and you can file the translations somewhere to look into later or you can share them with your friends.
When you are talking to someone face to face who voices a different language, you just pass the phone into the open and have a conversation. Voice translator will set the two languages side by side so both parties can understand the conversation. You can also select a phrase and perceive it translated into multiple languages at once. It's the only app allows for translated conversations.
Pros:
Can help carrying on a conversation
Capability to translate a phrase into multiple phrases
Here you can create a database of translated phrases
Cons:
Needs an internet connection
May want manifold tries to get the correct translation
Some users got error messages
Yandex is a free app available for iOS and Android. This app supports more than 60 languages. It is a real time translation app, each word is translated right when you type it, the whole translation process is faster and easier. The special feature of this app is it allows you to take picture of banners, different signs etc. and it will translate the text in the image in to your chosen language. Its quite easy to find way in foreign countries too. You save the dictionaries offline and you can make translations even when your internet is out. When you input it makes the whole process much smoother and faster particularly.