Video is an excellent tool for visual and audio learners and it is easy to understand when you are learning from video. It shows methods step-by-step in a tutorial. It is also helpful to show software to other people or to record tips and tricks for future reference. So if want to screen record your tutorial these best screen recording software will really help you to make your work easier.
There are lots of screen recording and capturing tools available which help you to screen record your tutorial in a easier way. Here you can find some of the top screen recording software for windows.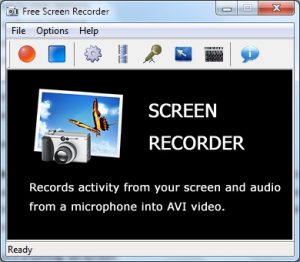 Top 7 screen recording software
Icecream Screen recorder is available for free to record and capture screen. It supports Window OS from window 2000 to window 8. Icecream Screen Recorder is a best resolution for all Windows-based PC users. Selection feature in icecream Screen Recorder allows you requisite your focus on, what you need, drawing panel will aid you to add 'creative' touch to the recording or screenshot. It also has other features like audio settings, hotkey support, project history, clipboard feature, screenshot to URL are prominent features of icecream screen recorder.
Active presenter is available for free. Active presenter is the best choice for the people who are planning to do something big with screen recording like tutorials or educating types of videos. ActivePresenter efforts on creating screenshots and recordings more interactive that they will be convenient while explaining. For an example, this tool is proposing a feature to inset interactive features like voice over, callouts, grapics, annotations etc. and it also make things easily explicable. It also supports for SCORM-complaint Learning Management Systems outfits its role as a corporate training tool..
Camstudio is the best and broadly used tool for capturing and screen recording. Camstudio is available for free, it does not bid many features but its existing features are much of noticeable ones. For an example, while using camstudio to record and capture your PC screen, you will be capable to hide your curser screen, acquire sound from manifold sources, etc.
Snagit is another great product from techsmith. It has been aiding a number of individuals and professionals and to record and capture their PC screen and for manifold purposes. Snagit is really a paid tool but you can use a free trail. If want want more then you have to go for paif tool it has many features like integration with cloud-based services, power editing tool, ability to set hot keys, free tech support, etc. are the features which made snagit a top tool for screen recording. However it is paid software but it worth for the money you paid.
Are you surfing for a screen recording tool that can be used to record videos and immediately upload them to YouTube?  Then EZVID IS THE BEST CHOICE.  The excellent part of EZVID is, you no need to go for an external video editor as EZVID comes with an assimilated video editor. It also supports window 8 and window XP. EZVID is available for free.
Jing is a very effective tool for screen capturing by techsmith (who created snagit); one who cannot afford snagit can go for Jing as it is available for free.   In Jing you can record and share videos with in a seconds but jing does not come with feature rich, high quality, productive etc. yet being free, you can take a free tech support feature from TechSmith. If you are planning to do some thing big in screen capturing and recording then Jing is not a good choice. Nonetheless, just alike you do in Snagit, you can set up hotkeys and make things faster.
Camtasia is also a powerful tool by techsmith. Purpose of the tool is to make simpler screen recording and video editing conceivable for everybody, and it also succeeded to do so, that too in a lesser time. Meanwhile Camtasia is a really great tool; you will not find any trouble in screen recording of your Windows and mac version also accessible. There are some new features like cross-platform screen recording, assimilation with Google Drive.