WordPress plugins made our job easier in editing images. There are some plugins that helps you to do your job perfectly and you no need to fear about pixelating or stretching of images. Here I am listing some of wordpress plugins for image editing and managing that is really very supportive.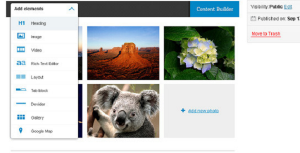 Best wordpress plugins to edit images
Regenerate thumbnails:
It is very popular and effective thumbnail generation plugin with 1000000 downloads. If you change your theme or opting for something new and fresh, you have to adjust all the sizes of thumbnails again. So, this plugin will rescue you from those problems.
This regenerate thumbnail plugin will help you to generate all thumbnail size images.
Photon:
Photon is the best image plugin because it has a free caching of images and also utilizing a CDN for your blog for free. It is not caching the images it also resizing them and you no need to worry about utilizing regenerate plugin because photon plugin spots the dimension and transport image of that dimension by resizing it automatically.
This plugin is a part of jetpack plugin. This Photon plugin is really good option because image caching and alteration of image resizing is done automatically and no need to install separate plugin for these two things that are important all the way.
sEditor plugin (online image editor WP plugin:
A wordpress plugin sEditor is built to replace the need for Photoshop once you need to enhance some effects to your images.
For an example, if you want to blur the part of image or pixelate or add marker/pointer on image, or add a frame, or add some text on it or need to crop a part of image or put on some effects alike to Instagram. Then this sEditor is the perfect tool for you.
Powr photo filter:
This plugin really has some favorable features. You can do photo shop like filters in a second for free and in few seconds you can convert images by using particular style like contrast, brightness, greyscale, sepia tone, darkness and opacity plus etc. and the more exciting thing in powr photo filter is, you have options to do borders, animations and resizing too. But in free version you will have water mark on pictures but you can edit it or else you can purchase it for $2.99 per website.
Aviary Editor:
Aviary editor is easy to use and light weight plugin. This plugin fits in your wordpress media library. The key features of this plugins are Ajaxed save process, save file format png, jpg, and original, 30 languages to choose, names theme image sizes.
Image source: Google images