Did you delete any important files from Google drive recently? Do you want to recover it now? Don't worry you can easily recover your deleted files . Just do the following steps to restore accidently deleted files.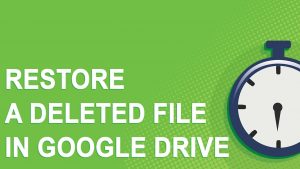 Recover deleted file
Go to Google drove and click "Bin" in the menu bar (left). Otherwise, spot for "trash" in the smartphone app from the hamburger menu.
Now right click on the file you want to recover and click restore.
To remove the file permanently, click "delete forever".
Note: remember, if you want to delete the file forever, all collaborates will also drop access to the file. If you want others to continue access to it, it better to handover ownership to another user (whom you wish) by clicking on share icon, tracked by advanced and then assign a new file owner.
Request Administrator to Recover Permanently Deleted Files
If your Google account is linked with a firm, group or school, you can request an administrator to recover files removed from GD and its Trash. It's easy for administrator to recover deleted files within 25 days. Here is how the administrator does it:
Go to Gmail ->Management Settings.
Select user -> double-click to open the user profile.
Click Menu icon (in the top right corner.)
selectRestore Data. now you select the file that you want to restore.
Contact Google Drive Support to Recover Deleted/missing Files
Are you not able to recover the missing or deleted files from Google Drive? Don't worry. Google drive Support team is there to help you to recover deleted or missing files, specifically when the files are gone from your Google Drive for an undetermined reason.
If the Google Drive folders suddenly become empty, just contact Google Drive Support team to recover the deleted/missing files. The support can recover files that are deleted or missing within the past 25 days.