Surfing for the best and useful apps is really a difficult task. You can find that there are lots of android apps available to makes our life cool and effective. Here we have listed some apps for daily life basis and fun too.
List of apps for Android: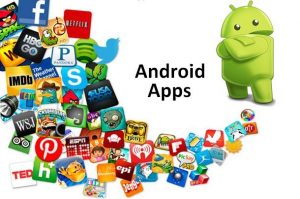 Haptik Personal Assistance app:
Haptik Personal Assistance is a free app. By using this app you can get things done in fastest way. You can solve your problems over chat.
Just message your problem to haptic assistant and sit back and concentrate on important things in life. Whether it's surfing for info, finishing a task or resolving support matters with companies, Haptik is your way to go.
This app is providing really a Very good service. Assistant are replying to all queries.
It will solve your regular problems and great help for people who is new to any place.
CM Security AppLock Antivirus App:
CM Security AppLock Antivirus will help you in shielding your android mobile from many unsolicited threats. It can also help in managing your device healthier by scanning and removing all kind of viruses and treats. This app will block unwanted calls, lock apps, boost memory, and assist in finding the mobile when it is misplaced.
ES file Explorer App:
This android app is a full featured file manager like multimedia, applications and documents for both network and local use. It has many remarkable features as follows.
Browse android files from computer:
Now it's quite easy to transfer files from PC to android. Go to ES file explorer -> network -> remote manager -> turn "on" -> now it will show a FTP url -> enter it in computer browser and access content of your android SD card.
Transfer files quickly:
Transfer big file between two android quickly under same WIFI network (If you have no wifi, connect them with device's hotspot.
Launch ES file manager -> select files which you want to transfer -> click "send" -> it will show other android -> click "send".
Save files directly:
This app has a built in cloud storage so you no need to install third party app for Google drive or drop box.
Hide media from gallery:
You can hide a content of any folder from seeming in your gallery. At that time rename the folder just by placing a full stop in obverse of its name.
ES file explorer as browser
This app also has a built in internet apps like Google, youtube and facebook. You can use it when your friends want to login to their account but you don't need to signout.
DU battery saver app:
DU battery saver is indeed a very useful app which helps in managing the background as well as running the numerous apps to protect the power of battery. This app has smart pre-set battery power management modes and one touch controls. This app also offers healthy battery charger features to resolve your Android phone battery problem and effortlessly increase your battery life. DU battery saver can get up to 60 to 70% more battery life for any android mobile
Features: Phone cooler, smart preset modes, convenient power saving widget, battery monitor and saver, one-click optimization and battery saver
AirDroid app:
By using this app you can manage your android mobile with ease and simple. It's quite easy to transfer files online between android device and PC/laptop without using USB cable.
You can send or receive individual or any group messages.
You can transfer any files easily between android mobile and computer/laptop.
You will also get mirror notification from apps to your computer. You can send swift reply/message for FB, whats app, kik, telegram etc. right from desktop.
Swiftkey app:
It is a free keyboard app for android. This app has many features as follows.
It brings auto correct words and next word prediction which makes typing easy and increases the typing speed.
It offers more than 30 colorful themes and layouts for all devices and screen sizes. It also supports more than 80 languages.
You can type just by swiping across the keyboard.
It syncs your style of writing to cloud, so it's quite easy to use swiftkey in all devices.
Quick pic app:
Quickpic is a free image gallery app for android.This app supports all online album services like google drive, picasa, flickr, drop box, own cloud, amazon, one drive, yandex, box, 500px etc. you can auto back up your photos to specified cloud.
It lists hundreds of images easily without pause, so it easy to find new images immediately.
It sets groups for all images with locations and time.
Hide your confidential pictures / videos from all gallery app by using password.
Slide show you pictures with best quality.
By including or excluding the folders you can do scanning efficiently.
Internal picture editor allows to set wall paper, crop pictures, rotate, shrink etc.
It has a great file management features like create new folders, coping or moving images, sorting, rename.
It is easy to transfer files between various devices through wifi.
Zomato App:
Zomato is a best app for food lovers. This app is presently available in more than 150 cities across India, Canada, UAE, UK, Ireland, New Zealand, Philippines, South Africa, Indonesia, Chile, Poland, Slovakia, Portugal, Brazil, Qatar, Srilanka, Lebanon and Czech Republic.
Table booking is available for users in UK. They can just book tabes at all restaurants supported by open table.
This app has lot of options to search and find great places to eat.
Just surf through updated pictures, menus and reviews and finalize where you want to eat.
Surf for cafes, restaurants, etc. at your locations and Cuisine like Italian, pizza, Chinese and Names like starbucks, mcdonald's, nando's , dominos easily. You can also find restaurants with discounts and offers.
Surf for images, menus, direction, phone numbers, user reviews and other information's to choose restaurant for dine out, nightlife, delivery and take away and review and rate restaurants you have been to, alo share pics of your foodie minutes directly from app.
If we missed any android app please let us know in comment, and share your favorite app you use daily. If you like my articles follow us on Facebook and twitter.
Please share on Twitter and Facebook to help other promising android developers. Thank You..!